Proposals for actions in Bergen municipality in the UN's decade for nature restoration
We would like to contribute to the transformation of Bergen into the greenest major city in Norway, and now propose concrete measures that we believe Bergen municipality should prioritise restoring within 2030.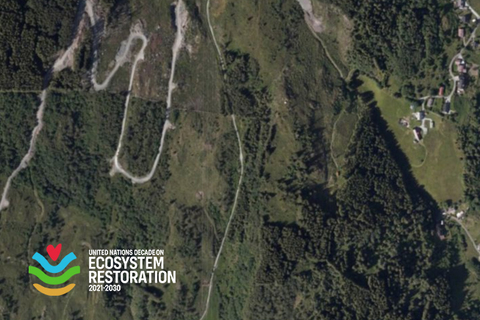 Translated by Julian Lee.
Bergen has a goal of becoming Norway's greenest major city – in which case the municipality must spearhead efforts to care for and preserve nature. The UN has made it clear that it is no longer enough to simply avoid the destruction of nature, and that we must also actively repair areas which have been disturbed or destroyed. To care for biodiversity is critical to achieving all 17 of the sustainability goals. Naturvernforbundet Hordaland would like to contribute to the transformation of Bergen into the greenest major city in Norway, and with this will therefore propose concrete measures and suggestions to areas we believe Bergen municipality should prioritise to restore by 2030.
A starting point in these efforts can be the following management tools, which we strongly encourage are implemented as prerequisites in the municipality's zoning plans:
Prepare a strategy and municipal plan for biodiversity
Fully cease approvals which allow for development in undisturbed nature and topsoil
Adopt zoning area positivity as a management goal
This means that:
The goal is to stop taking actions which damage nature
In circumstances where it is not possible to avoid encroaching on nature (for example, in the development of infrastructure which is critical for achieving goals on public transit and facilities for cyclists and pedestrians), there should be a concrete plan for the restoration of a destroyed or degraded area which is at least as large as that which is lost to the development
Our proposals and measures have been outlined in the future vision plan "Good, green Bergen 2030: A city for bees and those from Bergen" (in Norwegian). Here, we will briefly mention some general measures, as well as suggestions on specific areas for restoration:
General measures:
Make green areas green: Convert parking lots and parking garages into parks and green spaces
Restore natural vegetation and cultural landscape on the city mountains by removing unwanted growths of foreign tree species, and create green corridors between the different city mountains
Restore parts of the park areas in Bergen to flower fields and habitats for insects
Concrete measures:
Store Lungegårdsvannet: combine this with the ongoing restoration efforts by the city beach and expand to the entire waterfront area around the beach. Prohibit jet skiing.
Møllendalselva: To improve the environmental conditions and those for sea otters, the minimum water flow should be increased. Sewage and pollution must be reduced, and waterfront vegetation re-introduced.
Marineholmen: Remove parking structures and parking places at Marineholmen and expand Nygårdsparken so that we form a green corridor from the waterfront to Damsgårdstunet.
Langeskogen: Support the work with the voluntary protection of Langeskogen
Øvre Selvik: Restore the meadows and fields by the rundown farm.
Munkedammane by Eikelundtjern: Restore the water table by Svartorsumpskogen and the cultural markers by removing the illegally established parking lot.
Unneland: Restore the cultural landscape, follow up and improve on the natural portions of the ground covering project at Unneland so that Northern Lapwing (Vanellus vanellus) population in Bergen does not die out.
Ytrebygda south of Flyplassvegen, around Kalandsvatnet and Sandalen: Take care of the remaining cultural landscapes and facilitate outdoor activities and experiences with nature to protect against future development.
Nesttun: Move to remove the parking garage so that the river is visible.
Mindemyren north: Restoration of the water table as part of the planned work in spring of 2021.
All of Bergen municipality: Restore nature, vulnerable water systems, and old paths / cultural monuments by removing forest roads which are unlawfully built upon environmentally-harmful waste. At least seven locales within the municipal boundary are exposed to extensive environmental damages in the form of mass dumping posing as road construction, with the exception of the back of Lagunen / Apeltunvatnet, which is "only" a dumping place for construction waste:
– Fanafjellet
– Haugo-Bratland, Haukeland
– Hausdalen sør (Smørkisvegen)
– Hordnes
– Hylkje / Hordvik
– Bontveit-Hausdalen nord (Smogakampen)
– Øyjorden-Langevatnet (over Eidsvågfjellet)
Culturally-historic garden in Strangehagen at Nordnes: Preserve what may perhaps be the only garden of its type left at Nordnes. Historic maps show that this area has never been developed on before.
Apeltunvassdraget and Steinsvikvassdraget: Re-establish waterfront vegetation, create green corridors, and restore the spawning and growth areas of the sea otter population.
This is not a complete list of suggestions for measures and restoration, but simply some selected areas the municipality may consider starting with. We look forward to further cooperation with Bergen municipality and hope to come to a common understanding of what we should prioritise in the work to make Bergen the greenest and most biodiverse major city in Norway.
With kind greetings,
Naturvernforbundet Hordaland