"FULFIL THE NEW STANDARDS – OR GO ELSEWHERE"
Norway takes the lead in reducing environmental impact from cruise ships.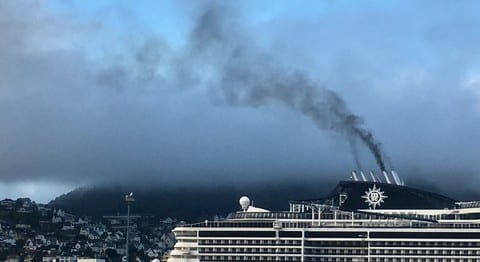 2018 seems to be the year the wind changed direction for cruise ships sailing in Norway. A number of national and local regulations affecting cruise destinations in the homeland of the northern lights, midnight sun, fjords, and glaciers will undoubtedly change the business. The facts are as follows:
May 3rd, 2018: The Norwegian parliament decided that all cruise ships in the Norwegian World Heritage fjords -Geirangerfjord, Nærøyfjord, and Aurlandsfjord – have to be emissions-free to air and sea as soon as possible and no later than 2026. The new regulations not only include the time the ships are at anchor or at quay, but also sailing in and out of these fjords.
October 24th, 2018: Norway's largest cruise harbor Bergen, with more than 300 yearly harbor dockings, followed up the government's decision – the city council of the World Heritage city has decided that Bergen will aim at achieving similar goals as the World Heritage fjords. In the near future, the city will have electricity from the national grid available for three cruise ships. The city will also limit the harbor to receiving three ships and 8,000 passengers per day, and an Environmental Port Index (EPI) will be implemented in 2019 that will differentiate port charges for cruise ships according to environmental impact. Other Norwegian harbors are due to follow in Bergen's footsteps.
November 13th, 2018: Oslo followed up the World Heritage fjords and Bergen by inviting a number of major cruise destinations in Norway, including Kristiansand, Stavanger, Ålesund and Trondheim, to establish the same standards, aiming at emissions-free ports as soon as possible and no later than 2026.
"Our hope is that the new regulations from Norway, being a leading international operator on the cruise market scene, will make shipowners and the cruise industry change to more environmentally friendly technology," said Synnøve Kvamme, county secretary of the Bergen office of the Norwegian Society for the Conservation of Nature/Friends of the Earth Norway. "In a few years, either ships will have to choose other destinations or fulfil the new environmental standards."
Synnøve Kvamme. Photo: Halldis Folkedal.
Download image.