Prioritise safe and well-maintained roads!
On Norway's west coast we are increasingly experiencing roads in rather poor conditions. We want safe two-lane roads, shoulders that do not collapse, well-lit tunnels, and protection from rocks and landslides.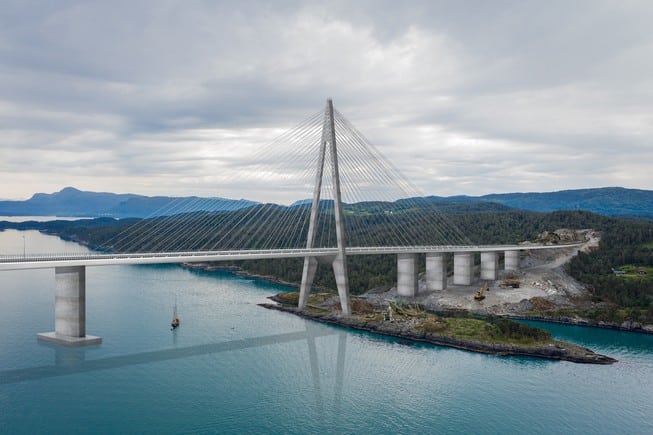 We want walking and biking paths and good conditions for public transit. The government cannot afford all of the road projects in the national transport plan. That is why we believe that we need to prioritise maintenance and road projects that improve everyday life, both for transportation of goods and for local commuters. Extremely expensive and destructive new projects such as Hordfast (from Os to Stord) and Møreaksen (from Ålesund to Molde) must be put on hold. These two fjord crossings alone are estimated to cost NOK 67 billion and stand out as the two most expensive road projects among the 20 that Statens Vegvesen (the Norwegian Road Administration) recommends be prioritised.
There has been an explosive growth in the price of steel in the last few months. The Hordfast project is based on experimental bridge technologies. We believe that the final cost for Hordfast and Møreaksen will be notably higher than the current projections. These two projects also have a significant impact on local nature and the climate, involving large-scale destruction of highly protected natural habitats and topsoil. The combination of very high costs, high crossing tolls, and significant damage to local nature should make it rather easy to prioritise other reasonable road projects over the highly contested ones such as Møreaksen and Hordfast.
Making the E39 road from Trondheim to Kristiansand ferry-free is estimated to cost NOK 340 billion and is quite likely the largest incursion into nature ever in Norway. In 2015, the combined economic benefit to society of this project was estimated to be negative NOK 51 billion.
We ask that the plans for a ferry-free E39 be reassessed, in order to find more moderate and environmentally-friendly solutions.

Trude Valle and Jan Arne Laberget, Yrkestrafikkforbundet, Vestland and Logistikk Midt-Norge divisions
Eirik Svensson, Transportarbeiderforeningene in Vestland (Fellesforbundet)
Gabriel Fliflet, Anne Line Thingnæs Førsund, and Louise Thoresen, Naturvernforbundet in Hordaland, Sogn og Fjordane, and Møre og Romsdal

---
Translation by Julian Lee.